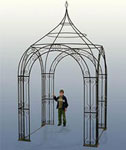 Professional Blacksmiths
since 1934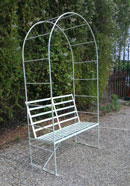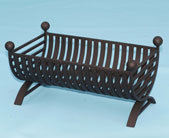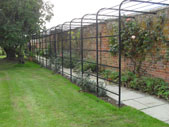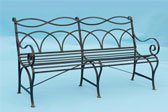 A
real

Blacksmiths who are very highly skilled and use many traditional methods including an ancient working forge!!!!!!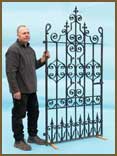 If you are looking for top quality handcrafted, wrought iron products made by a small family business, who have been professional blacksmiths since 1934, then you have found the right web-site!
We are highly skilled blacksmiths who use traditional methods, including using a forge to make the majority of our items.
We specialise in heavy wrought iron gates / arbours / tunnel arches / railings etc but also make a huge range of anything that can be made with wrought iron.
We never 'mass produce' our items:- every item is made to order to your specifications.
We have decided its time to 'modernise' and to offer via this web-site, some of our items (160 +) all of which can be altered to your requirements.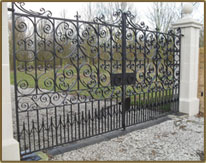 Most importantly remember if you have a design idea of your own (or even half an idea) we will be happy to work with you to produce this. Over the years we have made thousands of our customers own designs.
We are extremely proud of our family blacksmithing history and hope you will take the time to read it.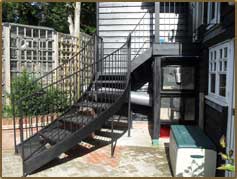 The forge we work in is about 500 years old! Many of our customers enjoy visiting as it is like stepping back in time. Most of the tools we use can be found in blacksmiths museums!
Lastly, please do not mistake our items for 'mass produced, 'cheaper' items that are not made to our standards and are lighter metal (often tubular).
© R Tatam Blacksmith - Moat Farm, Saxmundham Road, Framlingham, Woodbridge, Suffolk IP13 9PJ
Handcrafted / handcrafting wrought iron products - professional blacksmith / blacksmiths - ironwork / iron work / forging metal / forged metal / metalwork - wrought iron gates - grills - arbours / arbour / gazebo / gazebos / arches / arch - railings / fencing / fences - bench seats / chairs / love seats / tree seats - tables - lantern posts - obelisks - braziers - plant stands / hanging basket stands / planters / tree guards / rose / plant supports - weather vanes - woodburner guards - pond plant supports - boot racks - garden furniture - lighting / light fixtures / lights / candelabras / chandeliers - fire baskets / grates / log guards / fireplace accessories - iron hardware / hinges / fittings / door knockers / curtain poles / curtain rails / stair cases / staircases / stair case / staircase - agricultural tools - decorative items - signs - bespoke design - sculptures