Arch with hand forged scrolls
(ref:2a10)
This arch has hand forged scroll infills and the finials are also made of hand forged scrolls and hand forged points.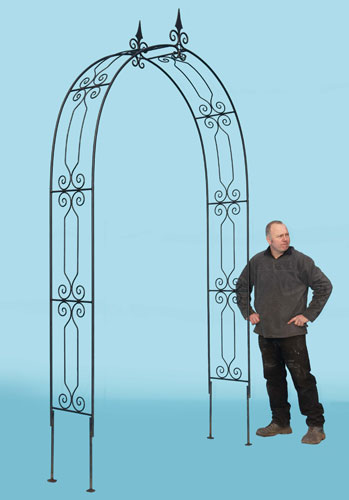 This photo shows 'extended legs' which is one option of securing arch once in situ.
The other option is to have pins (about 18" long) which need to be knocked through holes in the base.
Price as above: £360 (standard semi-black eggshell paint and size as below).
Metal sizes: 16mm / 12mm / 8mm solid round bars
Arch size: Depth 2ft (60cm), length / walk way: 6ft (1.88m), height: 10.5ft (3.20m)
For different size / finish / etc please see our specifications page.
For delivery please see our delivery page
© R Tatam Blacksmith - Moat Farm, Saxmundham Road, Framlingham, Woodbridge, Suffolk IP13 9PJ
professional blacksmith / blacksmiths - arbours / gazebos / pavilions / arches / tunnel arches