Double looped tunnel arch with hand forged 'Twisted cage'
(ref:2a9)
This beautiful arch has unique 'Twisted cage' finials, which are hand made in the forge, using an old, almost forgotten technique, that only a true master of his craft can make.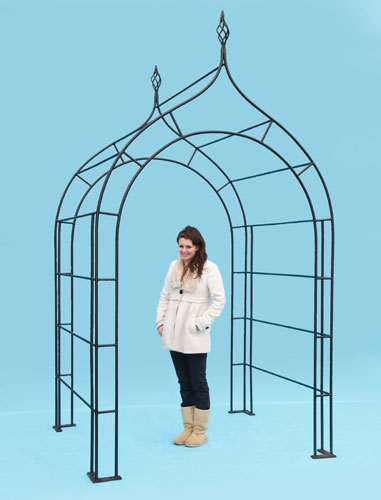 Price as shown in photo above: £1480 (made in one piece)
For the same item but made in bolt together sections for restricted entrances the price is : £810.
Sizes: (As photo), Depth:5ft (1.52m), length / walk-way:6ft (1.82m), height:10.5ft (3.2m) approx
These prices are for a standard finish (two coats of semi-black metal paint) and the size as above.
For different size / finish / finials etc please see our specifications page.
For information on delivery please see our delivery page
This arch comes with (8) pins which need to be knocked through holes in base plates to secure item in situ.
© R Tatam Blacksmith - Moat Farm, Saxmundham Road, Framlingham, Woodbridge, Suffolk IP13 9PJ
professional blacksmith / blacksmiths - arbours / gazebos / pavilions / arches / tunnel arches