Pair of 'Peacock' Driveway Gates
(ref:2b3)
This popular pair of gates show many hand forged scrolls used to make a 'Peacocks Tail' pattern.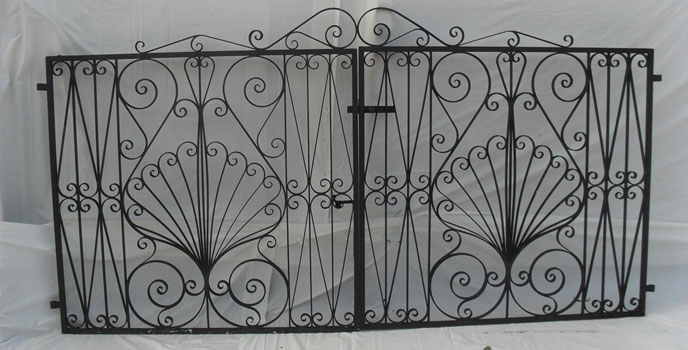 Price £1200 per pair (as shown in photo and described below)
These are to fit (approx): 2.44m (8') opening and is (approx) 1.22m (4') high.
These gates will be painted in two coats of semi-black (metal) paint.
Metal sizes: 20mm x 20mm box section (outer frame)
20mm x 4mm solid flat bars
20mm x 3mm solid flat bars
For different sizes / finishes etc please see our specifications page.
We also make wall brackets and all types of posts - contact us -
For delivery details see our delivery information page.
© R Tatam Blacksmith - Moat Farm, Saxmundham Road, Framlingham, Woodbridge, Suffolk IP13 9PJ
gates / posts / driveway gates / small gate / side gate / heavy duty gates / tall driveway gates / arched top gates / gate posts